How do teachers address the behavior issues of youth in these settings?
Page 4: Use Positive Behavioral Approaches
To address a range of behavioral challenges, a growing number of JC facilities are implementing positive behavioral interventions and supports (PBIS) as an alternative to traditional disciplinary practices. Implemented and proven effective in over 19,000 schools, PBIS promotes positive behaviors and prevents and reduces problem behaviors. PBIS relies on positive behavioral strategies to teach youth appropriate expected behaviors and provides increasingly intensive levels of behavioral supports to those who need them. Teaching expected behaviors and rewarding students who engage in them leads to a decrease in disruptions, an increase in instructional time, and improvement in both social and academic outcomes. PBIS is a three-tiered positive behavior support model.
| | |
| --- | --- |
| Tier 1: | Consists of universal practices designed to prevent the initial occurrence of undesirable behavior. This level, also called primary prevention, is implemented with ALL students. |
| Tier 2: | Consists of practices designed to prevent re-occurrence of undesirable behaviors. This level, also called secondary prevention, includes targeted group supports for SOME students. |
| Tier 3: | Consists of intensive, individualized intervention strategies for youth who are not successful with Tier 2 supports. This level, also called tertiary intervention, includes intensive interventions for FEW students. |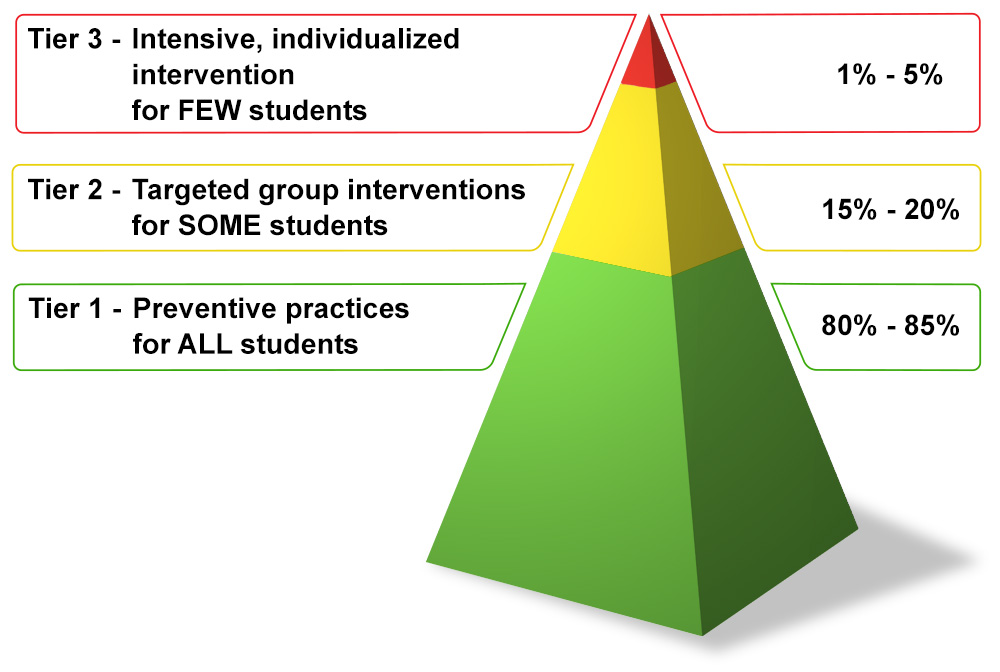 To learn more about the similarities and differences of implementing PBIS in schools and in juvenile corrections facilities, we encourage you to listen to the following IRIS Interview:
Research Shows
PBIS has been shown to reduce behavior incidence when implemented in juvenile correctional facilities.
Implementation of PBIS in a Texas juvenile corrections facility resulted in a 46% decrease in behavioral incident reports, a 21% increase in daily school attendance, and an increase in the career and technical industry certifications earned by students.


(Johnson, Wang, Gilinsky, He, Carpenter, Nelson, & Scheuermann, 2013)

Implementation of PBIS in juvenile corrections facilities in Illinois and Iowa resulted in reductions in both major and minor behavior incidents and a 73% reduction in the use of restraint and seclusion.


(Nelson, Scott, Gagnon, Jolivette, Sprague, 2008)
Jeffrey Sprague, an expert in PBIS implementation, highlights a few positive outcomes experienced by youth and staff at juvenile corrections facilities that implemented PBIS (time: 1:38).
Transcript: Jeffrey Sprague, PhD
We tracked 50 secure juvenile facilities over a three-year period and characterized their PBIS implementation. What we found across the facilities is we're able at tier 1 to get all of them implementing to a criteria. So if the question is can we be effective in getting them to do it, the answer is a resounding yes. In terms of outcome data. basically by supporting the facilities and regularly reviewing and tracking and doing problem-solving around their discipline data, we saw consistent reductions in behavioral incidences in virtually all the facilities.
We also found that the facility personnel said they liked it. They said they thought it made them more effective. They said they were willing to do it in the future. The youth liked it a lot because they said the adults were more consistent, and they actually expressed amazement or disappointment when they encountered, for example, what they called "old-school staff." The youth actually felt like the positive expectations gave them much more hope not only in the facility but it also helped them understand what their possibilities might be after they left the facilities. So pretty much everybody is positive about it. Once people can see their positive outcome then they'll be much more willing to maintain the effort that it takes to carry it out.
PBIS can be implemented either school-wide or facility-wide and should involve the entire school or facility staff, including school administrators, teachers, security personnel, para-professionals, and related services providers, among others. It is important to know that, if PBIS is only implemented school-wide, the positive behavioral changes might not transfer or generalize to other areas in the facility. Because of the differences between schools and JC facilities, the PBIS model or framework when implemented in a JC setting will require certain adaptations. Regardless, the key features of PBIS remain the same:
Creating school-wide or facility-wide expectations
Developing school-wide procedures, especially for problem areas
Altering physical arrangements associated with problem areas
Establishing rewards and consequences to encourage expected behavior and discourage misbehavior
Implementing increasingly intensive levels of behavioral supports
Establishing procedures for collecting and evaluating data to monitor correct implementation; also known as fidelity of implementation
x
fidelity of implementation
The degree to which an intervention is implemented accurately, following the guidelines or restrictions of its developers.
Once these PBIS features are in place, teachers and other staff can begin implementation by teaching students the school-wide behavioral expectations. When they create their own classroom rules and procedures, teachers should make certain that they align with these school-wide or facility-wide behavioral expectations. For example, a common expectation is "Be Responsible." A corresponding rule could be "Complete All Work."
For Your Information
The first step for a school or facility to effectively implement PBIS is to create a leadership team. This team will receive extensive training on PBIS, including how to set up the program and how to train their fellow staff members on proper implementation.
A basic tenet of PBIS is that the consequences of breaking the rules should be related to the offense. For example, if a student misbehaves during dinner, the consequence should not include the student missing math or English instruction the next day but instead should effect what happens during subsequent meal times.
Jeffrey Sprague discusses some of the challenges of implementing PBIS in juvenile corrections facilities (time: 1:23).
Transcript: Jeffrey Sprague, PhD
I think some of the impediment is the tradition of juvenile justice being about security, safety, and punishment. Then PBIS has come along almost at an oblique angle advocating both for a set of specific interventions, but also the system's features that we know make PBIS work well are just not part of the culture. One of the things we've also seen is the huge amount of turnover in a lot of these facilities, both in the school staff as well as the correction staff. On any given day, when you show up to a facility to do training or support or coaching, you never know who's going to be there. In these secure facilities, you might see administrators come and go.
The school programs tend to be run year around, but they may have contracted teachers that teach during the traditional school year, and then during the summer it's this parade of substitutes coming through. Training and even providing information across 24/7 is also a challenge. I think it's a miracle that in some places they've actually been sustaining the work now for multiple years and doing a pretty good job in that regard.
In the video at the following link, a teacher at a juvenile corrections facility discusses a number of positive outcomes after the facility implemented PBIS. Click here to open this video in a separate window (time: 3:11).

This toolbox lists and describes additional resources related to the information presented on this page. These resources are provided for informational purposes only for those who wish to learn more about the topic(s). It is not necessary for those viewing this module to read or refer to all of these additional resources to understand the content.
Additionally, the Neglected or Delinquent Technical Assistance Center for the Education of Children/Youth Who Are Neglected or At-Risk (NDTAC) offers resources about Safe and Supportive Learning Environments, including information on behavior issues in juvenile justice settings, improving learning conditions for at-risk youth, and the effective implementation of PBIS. To access these resources, visit the NDTAC Website and select Safe and Supportive Learning Environments from the Topic Areas menu at the top of the page.