What steps might the S-Team propose to help its struggling readers?
Page 7: The Rosa Parks RTI Framework
Click on the movie below to learn how the S-Team is going to begin implementing RTI, in practical terms, at Rosa Parks Elementary (time: 0:25).
Transcript: Implementing RTI
Since it took a fair amount of time for the S-Team to decide how best to help their struggling students, the third quarter is already in progress. The professionals at Rosa Parks Elementary decide to implement RTI at the beginning of the next academic year, starting with their first-grade classrooms. Let's take a look at Mrs. Hernandez's first-grade class to gain a better understanding of the RTI process that they have selected to implement.
Mrs. Hernandez is regarded as an effective teacher. In general, her students score well on the district's annual high-stakes tests. Additionally, she uses scientifically based instructional methods to teach all of her subjects. It is important that she provide high-quality reading instruction to ensure that if a student ends up struggling, it is not due to lack of appropriate instruction.
Universal Screening
Having thoughtfully considered the resources available at their school, the S-Team and teachers at Rosa Parks Elementary have decided to target students scoring in the bottom 25 percent of each first-grade class participating in the universal screening for RTI. So at the beginning of the school year, Mrs. Hernandez begins the process by conducting reading screenings with all of her students.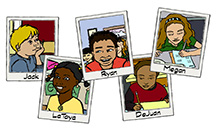 Most of Mrs. Hernandez's students perform well on the screening. The chart to the left shows the individual student scores. However, Mrs. Hernandez has five students who exhibit difficulty: DeJuan, Megan, Ryan, LaToya, and Jack.
| | |
| --- | --- |
| Student name | Number of words read correctly in one minute |
| Hannah | 20 |
| Emma | 17 |
| Joshua | 16 |
| Mai | 16 |
| Chuck | 15 |
| Aidan | 14 |
| Miguel | 14 |
| Deangelo | 13 |
| Mario | 13 |
| Sophia | 12 |
| Ethan | 12 |
| Gabriella | 12 |
| Yeojin | 12 |
| Caleb | 11 |
| Shante | 11 |
| Katharine | 10 |
| Abigail | 9 |
| Dejuan | 7 |
| Megan | 4 |
| Ryan | 4 |
| Latoya | 3 |
| Jack | 2 |
Tier 1: Class- or School-wide Interventions (Primary Prevention)
The S-Team and the teachers at Rosa Parks have decided that, in addition to providing the high-quality core reading program, Tier 1 instructors are to monitor all students' progress on a weekly basis. This decision is based on research demonstrating that the simple use of progress monitoring improves students' results. Therefore, everyone in Mrs. Hernandez's class receives Tier 1 reading instruction, and the students' scores are graphed so that Mrs. Hernandez can use them to determine whether the students need additional help. The data for the five struggling students, however, are being evaluated more carefully to determine whether Tier 1 instruction is sufficiently effective. After monitoring the data for eight weeks, Megan now shows adequate progress, and she doesn't require additional instruction. But the progress monitoring data for DeJuan, Ryan, LaToya, and Jack indicate that they are still struggling.
Tier 2: Targeted Interventions (Secondary Prevention)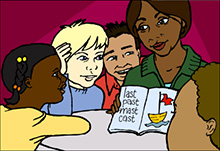 DeJuan, Ryan, LaToya, and Jack now receive Tier 2 intervention. In addition to the high-quality Tier 1 reading instruction they receive with Mrs. Hernandez, they also receive a more intensive, small-group reading intervention from Ms. Washington, the school's reading specialist. Ms. Washington will continue to monitor their progress in the small group.
After 12 weeks of Tier 2 intervention, DeJuan has made adequate progress and is now reading at grade level. He no longer requires the intensive small-group intervention. As a result, DeJuan will no longer receive Tier 2 intervention but will instead receive only the Tier 1 instruction with the rest of his general education classmates instead. LaToya and Ryan are making progress but are not yet reading at grade level. Ms. Washington and Mrs. Hernandez decide to continue Tier 2 interventions with these students. The data show that small-group instruction works for them, so it makes sense to continue their current intervention. On the other hand, Jack's responsiveness is far less than desired. Because Jack has not made adequate progress after receiving Tier 2 services, he will receive more intensive and individualized services (i.e., Tier 3 intervention).
Tier 3: Intensive, Individualized Interventions (Tertiary Preventions)
Jack's response to instruction has not been adequate enough to bring his skills to an acceptable level. High-quality, research-validated instruction was used with Jack for Tier 1 and 2 instruction, so the S-Team members can rule out inappropriate instruction as a cause for his difficulties. The S-Team also notes that additional support through small-group instruction, Tier 2 intervention, proved insufficient to meet Jack's needs. The team decides that more intensive, individualized instruction is necessary. The S-Team suspects that Jack may require special education services and begins the referral process.
Mr. Johnson, the school psychologist, will evaluate Jack with a battery of assessments that address (at a minimum):
Intellectual ability
Behavior
Speech and language
Sensory proficiency (e.g., visual and auditory)
These assessments can confirm or rule out the existence of other disabilities such as intellectual disabilities, emotional and behavioral disorders, speech or language impairments, visual disabilities, and hearing impairments, and determine whether certain related services (e.g., speech or language therapy) are necessary.
Note: The referral and assessment process is not part of Tier 3 services.
If the results of the evaluation show that Jack has a disability, he can receive special education services.