How can educators recognize and intervene when student behavior is escalating?
Page 5: Agitation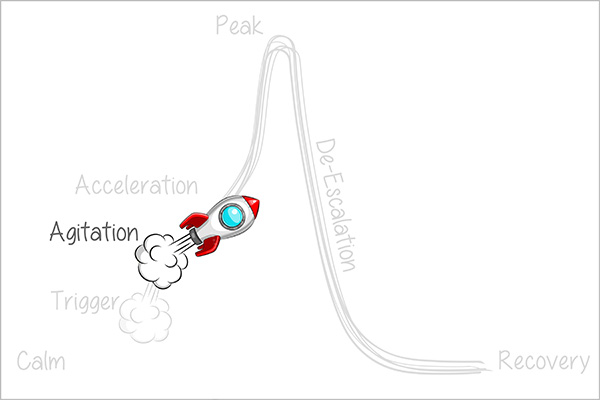 If triggers are not successfully managed, it is likely that a student's behavior will continue to deteriorate, moving into the next phase—the Agitation Phase. If the cycle is not stopped here, student behavior may continue to escalate, becoming increasingly difficult to manage.
What a Student Looks Like
Agitated behaviors are evidence that the student has disconnected from the learning experience. In general, a student is increasingly off-task and may appear angry, anxious, frustrated, or withdrawn. Students can demonstrate agitation in a number of different ways.
Some students increase behaviors, such as:
Fidgeting (e.g., tapping hands or feet)
Pacing
Shifting from one activity or group to another
Starting and stopping activities
In contrast, others decrease behaviors, such as:
Avoiding group work
Staring off into space
Putting their head down
Withdrawing from activities
In this video, note the behaviors that Nora displays during the Agitation Phase (time: 0:14).
Transcript: Agitation Phase
Teacher: Yes, Colin?
Colin: Can you look at mine?
[Nora sighs.]
Teachers: Yes, I will be right there.
Nora, I don't know why you're being so rude today. What's going on?
Nora: This is a waste of my time!
Teacher: Excuse me. You need to speak to me with respect.
[Nora sighs loudly.]
Strategies To Implement
During the, often rather long, Agitation Phase, a teacher should carefully select strategies or supports to decrease the student's agitation. The table lists strategies and tips to best prevent a student's agitation from escalating. Note that although some of these can be utilized during the Calm Phase, a student who has entered the Agitated Phase will require more targeted support. With this in mind, these strategies should be purposefully and thoughtfully implemented to prevent the student's behavior from escalating.
Strategy
Tips
Show empathy.

Use supportive language when addressing the student, for example:

"I see that you are fidgeting. Are you doing okay today?"
"I know this is hard. Take a quick break, and I'll circle back to you in just a minute."
"(Student name), you seem upset today. What can I do to help?"
"I know this can be frustrating. Grab a quick drink of water, and I can help you when you get back."

Write the student a note and discreetly place it on his desk. Without calling attention to the student, the teacher gives him time to acknowledge the message and respond appropriately.

Use calming strategies.

Ask the student to complete some breathing exercises.
Allow the student to use sensory objects like a stress ball or fidget toy.

Use proximity control with the student.

x

Proximity control

In classroom behavior management, a strategy on the part of an instructor to either initiate physical contact or reduce the distance between herself and a student to help the student to control his or her impulses.

Stand near the student's desk when addressing the class.
Briefly pause near the student to offer praise.
Circle back to the student to provide additional support.

To learn more about proximity control, view the following IRIS Fundamental Skill Sheet:

Help the student with the task.

Ask the student whether she has any questions. She might simply be stuck on a word or confused about the directions.
Assist the student with the first question or problem.

Change the student's environment.

Let the student move to a different location in the classroom.
Ask the student to help with a "job" or get something from another teacher.
Allow the student to get a drink of water.

Offer instructional choices.

Offer options for completing an activity (e.g., using flash cards, working on a computer, using manipulatives).
Let the student choose to work alone, with a partner, or in a small group.

Provide additional time.

Assure the student that she can have extra time to complete the activity.
Allow the student to finish the activity during free time or after school.

Share your perspective.

Explain to the student how his behavior is perceived in the classroom.
Share an idea or come to an agreed upon solution that will de-escalate the student's behavior.
Timing is everything. By using relatively simple strategies, the teacher may be able to defuse (or de-escalate) the situation, and help the student get back on track and return to the Calm Phase. In this video, Mr. Santini intervenes effectively to interrupt the acting-out cycle at the Agitation Phase and helps Nora return to the Calm Phase (time: 0:22).
Transcript: Agitation Phase with De-escalation Strategy
Teacher: Yes, Colin?
Colin: Can you look at mine?
[Nora sighs.]
Teacher: Yes, I will be right there.
Teacher: [To Nora] Hey Nora, I can see you're feeling frustrated, if you want you can move on to the next activity.
Teacher: [To Colin] All right, let's see it Colin.
Nice, you got it.
Teacher: [To class] All right friends, you guys can keep checking your work and I'll come around and circulate.
In these interviews, Kathleen Lane first addresses the importance of timing and then describes a situation in which a student quickly became agitated when his academic needs were not met.
Kathleen Lynne Lane, PhD, BCBA-D, CF-L1
Professor, Department of Special Education
Associate Vice Chancellor for Research
University of Kansas
Importance of timing
---
Student observation
Kathleen Lane, PhD
Importance of timing
Once you see symptoms of agitation, there are a couple of different strategies and it's important that you use these early on in the acting-out cycle, such as during or before the agitation phase, because if they're used later in the acting out-cycle (like when a student's really ramping up) it could set the student off and set them up to get into that next stage of the acting-out cycle. But one approach is simply to say, "Hey, it seems like you're really struggling right now and having a hard time staying on task," or "How can I help you?" Or "Would you like to go take your assignment and work in another location in the classroom? Do you want to go to the back of the classroom?" Or maybe "Would you like to try working with a partner?" Or maybe there isn't even that dialogue at all. Maybe you as a teacher just simply notice that the student is struggling at this point, maybe they're tapping their pencil or their eyes are darting around and they're looking a little agitated. You might just simply write a little note on a piece of paper saying, "Please help [laughs] a student who's looking a little agitated. Can you just hold them in your classroom for two minutes? And when that two minutes is up, will you just sign here and send him back to my classroom?" And then you can simply fold that note up, staple it shut, and say, "Hey, Mark, could you do me a favor? Can you run this over to Ms. Smith's classroom next door?" And then that gives him a way to take a respectful break, to walk away from the situation that's starting to feel a little bit scratchy for him. And it's not like you're saying in front of the whole class, "Hey Mark, it looks like you're about to lose it, so I need you to leave." Instead, you're giving them this respectful way to take a break. But if you were trying that very same strategy, when a student is really gaining momentum and getting to that next phase or even the peak stage, that is exactly the wrong time to exit them from the classroom because they would likely not respond very favorably at all. And that could put them into an unsafe situation. When you've got this student who is verbally hostile or physically aggressive, we don't want to do it at that time. That's not going to work at all. So we want to think about using that type of strategy and thinking about how to support behaviors before they become out of control. And we want to be cautious that we don't accidentally reinforce out-of-control behavior. So when you're seeing somebody that's struggling, they may not even be realizing yet that they're having a hard time. And so you don't ask them. You just simply speak up by saying something like, "All right, guys, at this time, we're going to go ahead and take a break and we're going to grab a partner and finish up the last half of this assignment. And with your partner, I'm going to ask you to check your work." And then you might just run around the classroom numbering them off into one, two, one, two, etc., and then pairing them up with a partner. But the idea there would be we want to shift something in your instruction so that we don't allow that student to get increasingly uncomfortable with the task at hand. And we don't necessarily always need it to be a change for the whole class, but that is a simple strategy that we could use. But if you have a student who is disengaging and you realize this isn't the only student that's struggling, that could be a way to go. And hopefully, as a teacher, you're really feeling strong and confident enough in your instruction that you feel like, "Man, I really need to think about a shift that I can make in something that I am doing rather than seeing everything as a within-student challenge." It could be an instructional problem, and it doesn't mean that you're not a great teacher. It just means that in that moment I need to make a shift. And when we think about that interaction pathway between the student and the teacher, we know that what we do shapes the next step with the student. And in this case, you might ask yourself, "What is the smallest shift that I can make right now in how I'm teaching to support students to get on track, to stay engaged, and to limit disruption?" And it's much easier to do that in either the trigger phase or this agitation phase that we're talking about. Because at this point, that discrepancy between where the behavior is and where we need it to be is most narrow. And it's much easier to get students back on track at this point. So timing really matters.
Kathleen Lane, PhD
Student observation
Several years ago, I had the opportunity to be a behavior specialist and my function was to teach teachers about how to manage challenging behaviors and promote very strong, positive relationships between teachers and students and help students to engage in really constructive, appropriate behaviors both within the classroom and outside of the classroom. And in addition to teaching teachers about those strategies, my second part of my job was to assist those situations in which students were having challenging behaviors that the teachers didn't yet know how to manage. And one day in particular just still sticks out in my mind all these years later. There is a teacher and she was in a self-contained classroom and the teacher was finishing her lunch at her desk, and she then passed out a bunch of papers back to students in the class. And these were papers that had been graded. I was only there to see one student. And when he got all of his papers back, there was a red line through literally every single problem on every single worksheet. And then she said to him, "Now, as soon as you get all these corrected, you can go to the assembly this afternoon. But if you don't get them corrected, you cannot go to the assembly." And then she went back and sat down. So he raises his hand and he said like, "I need some help on this. I'm serious. I got every one of these wrong." And he was obviously upset. And she said, "You just need to try harder." And he was starting to show signs of frustration. He's like, "I cannot do this." And she said, "Well, then you're just going to have to try." And she started eating her lunch again. And finally, he escalates in this voice and he's on the verge of tears. And then he stands up and he rips all the papers and throws them at her in what felt like a million little pieces. And he yells as if he was using a megaphone, "Hello? If I can't do one, I can't do 500. Somebody needs to teach me," which, frankly, at the time I thought was quite profound. And when we took one of the problems that I had found on that torn-up piece of paper, what I learned in looking at some of these, that the pattern was subtracting across zeros. He didn't understand that concept so that if you were taking like 501 -199, he didn't know what to do when there was a zero in the tens place. It was simply one correction. And as soon as he learned how to subtract across zero, he had what he needed to do. He can complete the items on the worksheet and he was able to go to the assembly, but he had also earned a detention along the way. And that whole experience really bothered me at the time because his behavior went from what felt like 0 to 100 in a really short period of time, and it really didn't need to. And I think it created some embarrassment for the teacher and for the student themselves.