How can educators recognize and intervene when student behavior is escalating?
Page 8: De-escalation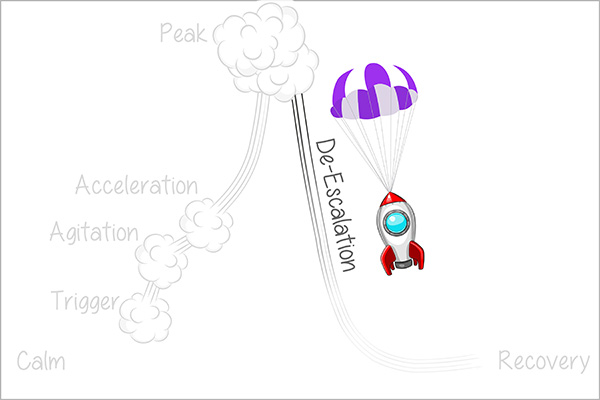 Once the Peak Phase has passed, the student enters the next phase of the cycle—De-escalation. During this phase, the teacher should take steps to reintegrate the student into the classroom environment with dignity and respect.
What a Student Looks Like
Student behavior in the De-escalation Phase can vary. Depending on the student, they may:
Be confused or disoriented
Withdraw
Deny any responsibility or involvement
Attempt to blame others
Try to reconcile with those they harmed or offended
Be willing to comply with explicit directions
Refuse to discuss the incident
Strategies To Implement
During this phase, a student needs time to cool down so that she can reintegrate to the classroom and its demands. The table below lists steps and tips for each. Developing a procedure for this at the beginning of the year may help to more effectively de-escalate a situation and prepare a student to reacclimate to the learning environment. This procedure may vary depending on the nature and severity of the peak behavior.
Steps
Tips

Provide the student the time and space to cool down and to reflect on his behavior.

Either designate an area inside the classroom or identify another room where the student can cool down. If in a different location, have another adult accompany the student from the room to that location.
Make sure the student is not in close contact with other students.
Give the student a few minutes—perhaps five or ten—to collect herself and re-engage in instruction.

Note: This is an opportunity for the student to cool down. It should not be confused with seclusion and should not be used as a form of punishment.

Resume regular schedule.

While the student is calming down in a separate area:

Restore calm to the classroom.
Continue with the regularly scheduled activity.

Once the student has calmed down a bit, provide an independent instructional activity.

The instructional activity should be at or below the student's level so that the student can be successful.
Choose an activity that requires the student to do something active (e.g., solving math problems, filling out a graphic organizer).
Avoid topics or activities that are likely to trigger the student again.
Be explicit about what you expect the student to complete and the quality of the work.
If the student is resistant, just ask him to complete the first one to two items and then circle back with him to review his work and acknowledge his effort.
If the student does not meet the expectations, allow the student more time to comply. Reintegrating the student before full cooperation has been achieved may cause the behavior to re-escalate.

Work with the student to complete a debriefing behavior form detailing the acting-out incident.

Prompt the student to think through what happened, reflect on what could have gone differently, and fill out the debriefing form.
Some students may need help from the supervising adult to complete this task.

Click below for sample debriefing forms. The first, which contains visuals, is designed for students who do not have advanced reading or writing skills.

Note: This is a time for the student to self-reflect. It is not a time to engage the student in conversation about his behavior, which could inadvertently result in the student's behavior escalating again. The debriefing behavior form will later be used in the Recovery Phase.

If applicable, ask the student to restore the environment (e.g., picking up papers thrown on the floor).

It is important to hold a student accountable for his behavior and any damage that may have resulted. This might not be feasible in some situations (e.g., The student is removed from the room immediately, and the room must be put back in order before instruction can resume).
In this video, Mr. Santini illustrates the steps that teachers should take during the De-escalation Phase (time: 4:32).
Transcript: De-escalation Phase
Teacher: Nora, I see you're feeling upset. Do you want to go to the Peace Corner and do some deep breathing? OK. Good call. Thank you.
Teacher: Hey Nora, how you feeling?
Nora: A little better.
Teacher: Oh, yeah? Well, if you're ready, you can go work on the math review worksheet and I'll bring the class back.
Nora: OK.
Teacher: All right, cool. Thank you. Here you go. Nice job.
Nora: I'm finished.
Teacher: Great Nora. Thanks for finishing your math activity. I'm going to give you this debrief form, and you can use this to tell me about what happened earlier, OK?
Just let me know when you're done.
Nora: I'm done.
Teacher: Great! Thanks for completing the debriefing form, Nora.
[ Johanna Staubitz commentary ]
So you saw that Mr. Santini gave Nora time and space to cool down without making any suggestions to her. This is really important, because if we start even just a conversation with a student, it can sort of feel like a demand and re-escalate emotions and behavior very quickly. So Mr. Santini waited for quite some time until Nora looked pretty calm and ready before he approached her, and then just made the suggestion of going to the Peace Corner.
Now to use something like the Peace Corner, and we saw this earlier as a de-escalation strategy during the cycle, we, a teacher has to have already established some procedures for use, and in this case, she's the only one in the classroom. So it's no big deal to go over there. But notice that there are things that happen in the Peace Corner. He said, "Maybe you can try some deep breathing." If Nora had never practiced deep breathing before this wouldn't have been very helpful. But this teacher has taught some mindfulness strategies outside of the context of a stressful situation, which helps students to apply those strategies when they actually really need them, after a crisis like that. So this is another example, kind of like the procedure where the class left the room in an orderly manner during the crisis, is another procedure that needs to have been taught in advance. Very important. And these skills are really good to teach students, particularly students who are likely to experience crises, but all students. So this can be something that's taught classwide.
So the next thing Mr. Santini does, after giving Nora another 10 minutes (or whatever the adequate time is if this is you dealing with one of your students) to really calm down. Then it's time to reintegrate Nora back into instruction. So it's good to give an instructional activity. In Nora's case, this is directly related to what they were working on before because the trigger had nothing to do with the content of the assignment so much as the delay to the assignment.
So she gets to go work on that math review sheet that she wanted to get to earlier while Mr. Santini brings the class back because remember, they're out of the room, and so that this all needs to be reconciled. And he checked in with Nora about that. And if Nora had said, "No, I'm not ready for the class to come back in," that's a really important report from the student to take into account. Because if she is she's actually aware enough to say she's not ready, then bringing the class back too early might mean re-escalation. It might not, but it is a little bit of a risk.
Now that Nora has been reintegrated with the class and has engaged with the instructional activity (the math review sheet) and is finished with that, Mr. Santini asks her to complete a debriefing form. And this form is really important and should be completed during this de-escalation stage, where a student's behavior is looking calm, relatively relaxed. No signs of re-escalation. Those signs or that calmness communicates that they're prepared to think through the conflict that happened earlier. The crisis that happened earlier. And so this form is going to help Nora to identify triggers and what her behavior looked like and how it worked out for her and will be used later, during Recovery, to structure a debriefing conversation.
If a student has met the expectations for completing the independent activity and the debriefing behavior form, this typically indicates that the student's behavior has de-escalated. It is now more likely he will be able to return to the classroom without incident.
Once a student has exited the Peak Phase, it is critical that the teacher support him through the De-escalation and Recovery Phases. When the teacher does this, the student is less likely to engage in further challenging behavior and can more successfully return to the Calm Phase. Kathleen Lane explains more about how a teacher can support students during the De-escalation Phase. Next, Janel Brown explains how to support a student in the De-escalation Phase.
Kathleen Lane, PhD, BCBA-D
Professor, Department of Special Education
Associate Vice Chancellor for Research
University of Kansas
(time: 1:27)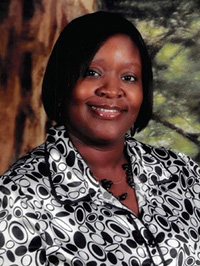 Janel Brown
Behavior Interventionist
(time: 2:06).
Transcript: Kathleen Lane, PhD, BCBA-D
Most of the time during this de-escalation phase, the student is not going to want to talk about what just happened. And most oftentimes the teachers [laughs] honestly don't want to talk about it either because they're concerned about re-escalating the student. The good thing is, though, at this particular phase, students are usually really receptive to directions. So we need to figure out a way to give them a way to get out of this situation with some dignity. Oftentimes, teachers will do this by letting the student sit in a different area of the classroom, not a time-out area, but a separate space where instruction typically occurs. Then you can give them an independent activity that's at their instructional level. So it might be a worksheet. It could be writing their spelling words a couple of times each. It could be doing a journal entry. And you can give them a prompt along the lines of "Go ahead and write about just what happened." But it has to be short. It has to be something they can do independently and successfully. And it removes them from all the attention that they're getting from other students in the classroom. So this gives you as a teacher, a couple of minutes—not too many—just like two or three, to get everybody else back on track and engaged in instruction. That's how we're keeping instruction moving forward so that you can give the student who just had that big challenge an opportunity to calm down, refocus, and then we can re-approach the student in the next stage.
Transcript: Janel Brown
In that de-escalation phase, you don't want to jump right in and try to have that conversation with that student. Because nine chances out of ten, they're not going to do it. What you could do is give them an assignment that's less stressful. Sometimes kids can put on paper what they can't say in words. Give them a pencil and a sheet of paper. They can draw it, their emotions, on the paper, they can write about it. Once they've done that, "Okay, I see that you wrote this. You drew this picture. Could you just explain to me what's going on? Could you help me to understand what you meant by this and what you wrote?" And that's how you want to slowly get that conversation going with your students. You have to allow them to take ownership of what happened, why it happened, and next time when I feel that this is going to happen again, what can I do differently to handle what that issue is? After they take ownership, for instance, the little boy who threw the nails, the scissors, we've had bookshelves turned over where books all over the floor. We had the crayon boxes, crayons from here to yonder. So once they have come down from the peak and maybe you've had a little discussion about what happened, what could be done, they do have to go in and fix it. Pick up every single piece with no help and we tell them, "You did not have help throwing this down, so you will not have help picking it up. Do you understand?" That's just a part of the whole process. Nobody's going to clean up your mess, if you turn over a desk, you're going to pick it up. If you turn over chairs, you're going to pick them up. It's just ownership for what they have done and taken responsibility for. You can't do it for them. They have to do it.
Activity
The following videos depict steps implemented by Mr. Santini during the De-escalation Phase. Match what happens in the video with the appropriate de-escalation step listed to the right of each video.
Kai restores the environment.
Kai completes a debriefing form.
Mr. Santini provides Kai time and space to cool down and reflect.
Mr. Santini offers Kai an independent instructional activity.
Transcript: Video 1
Teacher: [meets Kai in classroom doorway] Kai, I'm so glad you're back. This might be a good time to go straight to the Peace Corner. Does that sound cool?
Kai: Okay.
Teacher: Right on. Go ahead. Relax.
[Kai reenters the classroom.]
Kai restores the environment.
Kai completes a debriefing form.
Mr. Santini provides Kai time and space to cool down and reflect.
Mr. Santini offers Kai an independent instructional activity.
Transcript: Video 2
[Kai picks up his things from the floor and sits in his desk.]
Teacher: Great. Thanks so much for picking that up, Kai.
Kai restores the environment.
Kai completes a debriefing form.
Mr. Santini provides Kai time and space to cool down and reflect.
Mr. Santini offers Kai an independent instructional activity.
Transcript: Video 3
[puts worksheet on Kai's desk]
Teacher: This activity is about the story we read yesterday, so these are pictures of events in the story, and your job is to put them in order.
Kai: Got it.
Teacher: Cool, and just let me know if you have any questions.
Kai restores the environment.
Kai completes a debriefing form.
Mr. Santini provides Kai time and space to cool down and reflect.
Mr. Santini offers Kai an independent instructional activity.
Transcript: Video 4
Teacher: Hey, Kai. Do you think you're ready to give some thought to what happened earlier?
Kai: "Yeah."?
Teacher: Great. [places debriefing behavior form on Kai's desk] You can use this form to talk about what happened, why, and what we could maybe do differently next time. Okay, and you can let me know when you're done.
Kai: Okay.
Teacher: Any questions, just let me know.
Mr. Santini also uses behavior-specific praise during one of the steps. Identify the video and describe the behavior he is reinforcing. You may type your answers in the field below. However, this field is provided for reflection purposes only; your answers will not be available for download or printing.
Now that you've had a chance to reflect, listen to Johanna Staubitz's feedback (time: 0:38).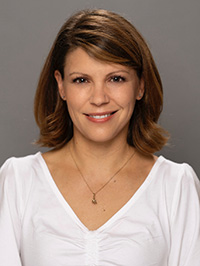 Johanna Staubitz, PhD, BCBA-D
Assistant Professor
Department of Special Education
Vanderbilt University
Transcript: Johanna Staubitz
During de-escalation, it is very important that if the student disrupted the environment the way Kai did, that the student restores the environment the way Kai does in this video. This is important for several reasons. A couple are, one, it's a good way to help the student become reintegrated into the ongoing activity. They need those materials to continue doing the work or to pick up the work where they left off, or to begin a new activity. They have their materials ready. And, second, it is a good way to begin to hold the student accountable for the outcomes of their actions during Peak.