How can educators recognize and intervene when student behavior is escalating?
Page 9: Recovery
Once the teacher has restored calm to the classroom and the student's behavior has appropriately de-escalated, the student enters the final phase of the acting-out cycle—the Recovery Phase. This phase marks a transition between the De-escalation Phase and the Calm Phase. The teacher should support the student as he gradually reintegrates into the classroom.
What a Student Looks Like
In this final phase, students are generally subdued. They may:
Avoid talking about the incident
Seem guarded
Prefer working alone on a familiar task
Strategies To Implement
For the most part, strategies used in the initial Calm Phase are also applicable to the Recovery Phase. See the table below for some additional strategies and tips to support the student during the Recovery Phase. The way in which the teacher implements these strategies may vary depending on the nature and severity of the peak behavior.
Strategy
Tips
Conduct a brief (3–5 minute) debriefing session with the student to review the debriefing form the student filled out in the De-escalation Phase.

x

Debriefing session

a brief discussion between a student and an educator to review a significant behavioral event, prevent it from occurring again by strategizing different responses, and transition back to normal activities; typically utilized during the Recovery Phase of the acting-out cycle

Wait until you and the student have calmed down. Debriefing too early can be counterproductive, as the student may not be ready to accept responsibility and come up with solutions.
Make sure to discuss the following:

Triggers
A plan of action for future triggers
What the student needs to reintegrate into the class

Teachers often incorrectly think that debriefing will re-trigger the challenging behavior. However, debriefing actually can help identify triggers and strategies to address them.

Click the form below to view a sample form that teachers can use when debriefing with a student.

Note: Though debriefing may take away from instructional time, it is time well spent. Debriefing can help the student and teacher understand the behavior to prevent it from happening again. The absence of debriefing may signify to the student that he got away with the behavior.

Conduct a concise debriefing session with the class.

In instances where the student is removed from the class:

Discuss the incident with the class.
Provide an opportunity for students to share their feelings and emotions.
Emphasize supporting the student when he returns.
Avoid talking negatively about the student or sharing confidential information.

Reinforce the student's positive behavior.

Use behavior-specific praise when the student engages in appropriate behavior.
Increase the frequency of positive reinforcement.

Gradually reintegrate the student into normal classroom routines.

Have the student work on related independent activities if he is hesitant about joining in with the group.

Hold the student accountable for her behavior.

Although the student may begin displaying appropriate behavior, hold firm to established consequences.
Consequences are sometimes necessary to help decrease the probability of a behavior occurring in the future.
In this video, Mr. Santini illustrates the steps that teachers should take during the Recovery Phase (time: 7:11).
Transcript: Recovery Phase
Teacher: Hey, let's talk through what happened earlier. Can we start with your reflection?
Nora: OK.
Teacher: Great! I see that you were frustrated by having to wait to do your math work. It was hard to hear other students ask questions that you already knew the answers to? I can totally understand that, but what did you do?
Nora: I talked out. Then I yelled and I knocked over my chair.
Teacher: I saw that too. How did that work out? How do you feel about the result?
Nora: I feel embarrassed, and I wish I hadn't done it.
Teacher: I know. What do you think about what you could do the next time? Give me some ideas, I can help you.
Nora: Maybe I could ask to work ahead?
Teacher: Nice. That's a super idea. How about I find some challenging activities for you to keep at your desk just for times like this?
Nora: OK.
Teacher: Also remember you always have the option to go to the Peace Corner and use the activities over there.
Nora: OK.
Teacher: Great. Now, here's the thing: whenever a student shows any unsafe behavior in the classroom the teacher needs to call home and write an office referral. OK, I just want to make sure you're aware of that so it's not a surprise. You have any questions about that?
Nora: No. I get it.
Teacher: Great! Before we move on, is there anything else you need or want me to know? Anything thing else that I could help make you wait better the next time?
Nora: I don't know. I'm always waiting for adults to help other kids so they can help me.
Teacher: That's right. You have a baby sister.
Nora: Yeah. She gets all the attention.
Teacher: I'm sorry to hear that. That must be pretty hard. If you ever want to talk about that we totally can.
Nora: OK.
Teacher: How are you feeling now?
Nora: I feel a little bit embarrassed, but I'm feeling a lot better.
Teacher: That's totally understandable. I'm glad you're feeling better, and I just want you to know, I'm very glad to have you in my class.
Nora: Thank you.
[ Johanna Staubitz commentary ]
Mr. Santini is leading a debriefing conversation with Nora, and the first step of this conversation is to look at the form and kind of come to an agreement on what happened. And you know Mr. Santini uses language like "I see that you felt this way"; "I saw that, too." He kind of validates the experience of the student to the extent that you can and asks her some questions about what she needed, why it happened, and whether it actually solved the problem. And this really helps a student to develop the ability to self-reflect and also, in the future, to notice when they are beginning to escalate, to observe those signs in themselves. And this facilitates them seeking solutions in the future.
Mr. Santini and Nora now continue this conversation. They spent the first part discussing what happened to help develop Nora's ability to detect when she needs a change in her environment. So she needs to know what her triggers are, just like Mr. Santini does. That conversation's helpful for both of them. But now what they need to build on that is an idea of what to do once one or both of them detects that there is a need for a change. So they work together to identify some strategies and Nora is able, right out of the gate, to say, to make a suggestion that's a pretty good one. Which is well, maybe I can ask to move on. So much like asking for help, right, but matched to her triggering scenario: having to wait. And Mr. Santini reinforces her engagement with this conversation by saying, "That's a great idea," and then builds on it by suggesting that he, you know, takes an active role, and compiles, you know, a set of activities that he can have on him to give her in a situation like that. In addition, he says, you know, alternatively, you can always go take a break in the Peace Corner. And this is a really good idea. It's beneficial to have that break available not only for Nora but for other students in the classroom. And again, it's just important that if you're going to use something like a break area or Peace Corner, that you have explicitly taught procedures for entering and sitting and using it to the class.
This conversation is a tricky one, and it can be very tempting to put this off for later or maybe to not even talk with the student about it and just enact the consequence. But Mr. Santini goes ahead and lets Nora know what has to happen according to school or classroom policies in response to her severe challenging behavior and kicking the desk, knocking things over. That stuff was dangerous to Nora and to other students. But he does it compassionately, and I like his language here of like "Here's the thing," so he's kind of preparing her for bad news but still ending on a positive note and one in which he's kind of checking in, like "Does that make sense to you?" And Nora says, "Yes," and if she has questions, she can ask them. But what's important is that he's kind of polite but firm about these consequences. I will also add that it can be really tempting to use this part of the conversation, if you're not one of those teachers who wants to avoid this conversation, you might be one of those teachers who's tempted to kind of guilt and shame in an effort to prevent the student from doing this again. And I would just caution you to remind yourself to be polite but firm. Those consequences will speak for themselves.
So in this final segment of the debrief conversation, Mr. Santini, you know, addresses a lot of different things. One is discussing other issues or non-school-based issues like, "Hey."
You know sort of an acknowledgment of like this isn't necessarily how you normally react, even when your peers ask a lot of questions. Like, "Are there other things going on I should know about?" So this is an opportunity not only to learn about non-school-based triggers but also to repair and build a relationship and communicate that you care about what's going on with the student outside of school. So outside of school. So this part of the conversation serves multiple purposes in that sense. In addition, Mr. Santini really explicitly offers support for the student.
By saying, "Hey, if you ever want to talk about it, I'm here," and also communicates support by asking, checking in on how she's feeling. "How are you doing now? Oh, I can understand that you're feeling that way, a little embarrassed," and ends by affirming Nora and her role in the classroom and her belonging in the classroom. Students need to feel that sense of belonging to really thrive. So I think that's a really nice place for Mr. Santini to end, and it's not always easy to do that.
It's really reasonable for a teacher at even at this point during Recovery, you know, maybe you haven't had enough time to recover, and the student has. And if it's at all possible to delay this conversation until you both have, even better. But sometimes we have to kind of just dig deep and find that empathy, even though we're very reasonably stressed out by what happened earlier. But this really is a situation where if we can kind of rise above our own emotions and have this supportive conversation that is clear but helps repair the relationship. It just has that longer-term payoff, even though it can be hard in the short term, and sometimes it isn't hard in the short term. It does just feel good to make up.
If strategies used in this phase are successful, the student will return to the Calm Phase. First, Kathleen Lane explains more about how a teacher might debrief a student and the class during the Recovery Phase. Next, Pamela Glenn explains her process for the Recovery Phase. Finally, Dr. Gloria Campbell-Whatley discusses the importance of using restorative practices to support students during this phase.
Kathleen Lane, PhD, BCBA-D
Professor
Department of Special Education
Associate Vice Chancellor for Research
University of Kansas
(time: 3:39)
Pamela Glenn
Instructional Mentor, Former Teacher
(time: 3:35)
Gloria Campbell-Whatley, Ed.D.
Professor, Special Education
University of North Carolina, Charlotte
(time: 1:41)
Transcript: Kathleen Lane, PhD, BCBA-D
During the recovery phase, generally, schools will have a debriefing form that allows them an opportunity to have a structure to walk through this problem-solving process with the student, to take a quick look at what just happened, what could be done differently so that it can be prevented next time. And we can think about this as a debriefing activity. Now, hopefully, when you're sitting down to do this debrief with the student during this time, you've been successful in giving them an independent activity that they can do, and the rest of the class is back on track because we do not want all eyes on the student. At this time, the teacher can go back to the student and say, "I know that was really uncomfortable and I'm feeling uncomfortable too with what just happened. But we're at a time now where we need to talk through it so we can do things better the next time." If you don't know what that trigger was, you might say something like, "It seemed to me I didn't even feel like I saw this coming. I just looked over and I saw you doing this. Can you tell me what happened before that?" And basically what you're doing in this moment is talking with the student to figure out why did this happen? What set the stage for this to even take place? And the goal is not to blame anybody, but the goal is to learn from it so that we can prevent this from happening again in the future. And it might be something as simple as "When you gave that last answer in class and you said I was wrong, it totally embarrassed me in front of all my friends and I just didn't feel like doing anything like that. And the more I thought about it, the more frustrated I got because I really felt like you called me out in front of my friends."
And it may be that the teacher totally missed that and didn't even realize saying "No that's not quite right" was offensive to that student or was humiliating in some way. So with that new information together, that teacher and that student can come up with an action plan. And it literally could be as simple as maybe the student needs a little more time to think about questions so that they can have a chance to come up with the right answer ahead of time.
So you might come up with something like, "Tomorrow, I'm going to ask you a question in our discussion section, and I want you to think about this. And if you want to bounce your ideas off some of your friends or check with me before class starts, I'm happy to do that." Or you might even say, over the course of a normal conversation, "Hey, Jesse, I'm going to want to get your opinion on something in just a second, but I'm going to go ahead over here and check in with Alexis to get her thoughts first." And that little interaction gives Jesse an opportunity to think for a couple of seconds. "All right, she's going to ask me a question and I know this is going to be okay." Do some positive self-talk. For some students, it's just really, really hard [laughs] to get corrective feedback or be told that they did something wrong or said something wrong, and it feels much more personal than it was intended to come across. So for those students, you might come over and say, "Hey, I know you're finishing up your writing activity right now and I'm going to come back in just a couple minutes, and then we're going to edit your paper together just for capitals and periods. So if you would, take a quick look at it and I'll be right back."
So that lets them know I'm about to give you some feedback and then it gives them a chance to double-check themselves so that they can be ready to hear what you have to say. So essentially, this debriefing session gives us a chance to learn about what went wrong from both people's perspective and come up with a new approach for moving forward the next time. It is not to blame. It is to learn.
Transcript: Pamela Glenn
While that student is having a minute, I'll go back to the other students. "Is everybody okay? Are there any questions? Do you have a partner that you can work with? Because I have to go take care of this right now. I am so sorry that this is happening and blah, blah, blah. You're doing a great job. I love how you're being there for your family member that needs a little extra time." So they'll get to work. And then I'll go back then, and Johnny and I will have a very quick "Are you okay? What do you need? You know, we got to fix this." Sometimes you can fix it in the moment. Other times you have to come up with a longer plan because you still have a class of students that are working. So, if it's something that we can just quickly patch up, "Are you good to come back and keep going?" Depending on whatever's got them agitated, if they can re-convene with the community, we do. If not, then they sit with me. If not, and they need to move out of the room, then I'm going to call for a guidance counselor or somebody. I don't like for a student to get to that state and then leave and debrief with somebody else because then they have to explain it, and maybe the person doesn't know them. So, I like to do that myself, but if they just need a time out of the room, then I'll give them that option. And then we'll get together. Then we're going to talk about this. That's a real one-on-one conversation. For me, the recovery process is… I don't want to do this lots and lots of times. The first time we do it, it's going to be deep and meaningful. Is it likely going to happen again? What can we put in place that this does not happen again? And I'm big on writing down a plan. We have something we called a behavior reflection. I'm going to ask you, when you've calmed down, "Are you able to speak about this now? What exactly was happening?" My voice is soft. It's low. I'm listening. I'm doing a lot of reflecting. "I hear you say that the work was hard, and you didn't understand. I hear you say that so-and-so touched you or took your pencil and it made you mad. I hear you saying…" So, there's a lot of that happening. Own what you did. We talk about that a lot. You mess it up, you dress it up. You own it. You messed up. So, "What did you do that was wrong?" And you'll hear them say, "I should have never thrown my chair. They'll be very remorseful. I've had very few students that have gotten to that phase, and they've looked and said, "Yeah, I did that. Now what?" I've [laughs] never really heard that. It's been a "I shouldn't have done that." What could have happened or what did happen? "I threw the chair and it hit my friends and I didn't mean that." "Okay, so now what are the repercussions of that?" "My friend was hurt." "Now, what have you got to do?" "I've got to make that right." "How are you going to make that right?" We'll then write down a plan of this is what the behavior was, and this is what I did. So, the next time I feel like this, I'm going to… And then we'll put 3 to 5 points. And then I have a little column of what am I going to do to help you make sure that this happens. I'll send it home, a copy, the parent will sign to say, "I understand that this has happened. At home, I'm going to reinforce it." It's something between the student, the parent, and me. Nobody else sees it.
Transcript: Gloria Campbell-Whatley, EdD
Now in the Recovery Phase, restorative discipline or restorative justice is very important. Restorative justice or restorative discipline is a way that you can fix whatever wrong that you have done. So you get a chance to look at your behavior, view the behavior, and then correct it. And then you begin to talk about, okay, this is something that you did. It wasn't right. Now, let's correct it. What can I do to correct it? And that's very different from "I'm suspending you, get out of the door, go to in-class suspension." There is no restoration. And that restoration is important to the student to fix that offense. So you fought in the cafeteria and you slung some food over here, so you go in the cafeteria and you do some duty, you wipe down tables, you sweep or clean it up. You're still there, you're not suspended, it leaves you still as part of the class. You're not thrown out. You are going to fix what you did. And then you begin to handle things in a different way when you are about to commit an offense. You'll handle it in another way because you fixed it. So you know that there's another way to handle it. It really works well in that Recovery Phase.
Let students start with a clean slate after the Recovery Phase. Although it can be difficult to move forward, providing the student with the opportunity to start fresh can motivate him to engage in more appropriate behaviors.
Completing the Recovery Phase can be difficult. The teacher must deal not only with the misbehaving student but also with the emotions and expectations of the class. In addition, the teacher must deal honestly with her own mistakes and feelings surrounding the incident. The goal must always be to create a healthier learning environment.
Activity
In the video below, Mr. Santini conducts a debriefing session with Kai. After viewing the video, answer the following questions. You may type your answers in the field below the video. However, this field is provided for reflection purposes only; your answers will not be available for download or printing.
Do you think this debriefing session was effective? Explain why or why not.
After debriefing with Kai, how might Mr. Santini debrief with the class?
Transcript: Recovery Phase
Teacher: Hey, Kai. Let's revisit what happened earlier. Okay?
Kai: Sure.
Teacher: I'm going to use this form to guide our conversation. [touches debriefing behavior form]
Kai: Sure.
Teacher: [picks up debriefing behavior form] Cool. I saw you get upset and run out of the classroom. Umm can you tell me about what happened from your perspective?
Kai: I knew I was gonna have to have a turn. I don't know how to read all the words, and everyone else knows it.
Teacher: I see. So, you were already upset before you even started and then when it was your turn, you ran into a tough word. What did you do to deal with all of that?
Kai: I don't know. I got angry and ran away.
Teacher: Yea. How did doing that work out for you?
Kai: Not good. Now I look bad in all kinds of ways.
Teacher: I can totally understand you feel that way, but I think your classmates like you and appreciate you and you don't have anything to worry about. But is there something else you could try next time that might work better?
Kai: Can I skip my turn?
Teacher: That's a great idea. Then next time we can just agree if you come to a word that you don't know, just popcorn to someone else. Okay?
Kai: Okay.
Teacher: You can also always ask for help. There's no shame in that. Umm, I'll also try to give you some time to look at the passages in advance if you want. Okay? Maybe we could practice the first sentence and have you start the popcorn activity the next few times.
Kai: I would like that.
Teacher: Umm. I want you to try writing down these strategies. You can write "Ask for teacher's help and then keep going from there. Okay. [places debriefing behavior form back in front of Kai]
Kai: Okay.
Teacher: You can let me know if you need any help.
Kai: I'm done. [hands debriefing behavior form to teacher]
Teacher: Alright, Kai. Nice job writing down those strategies we identified. One more thing we need to talk about. Any time a student shows any unsafe behavior in the classroom, like leaving the room without permission, the teacher needs to call home and write an office referral. I just want to make sure you're aware of that so it's not a surprise. Do you have any questions about that?
Kai: No, but my mom is gonna be mad.
Teacher: I'll do my best to make sure your mom understands that this is all part of the process and that you're learning how to get your needs met. Okay? So, no worries about that.
Kai: Thanks.
Teacher: Cool. And what do you think about making some extra time to practice reading?
Kai: I'd like that.
Teacher: That sounds great. Umm, I'll talk to your mom about that too, and then really thanks so much for having this conversation. I think you did a great job, and I'm really glad you're in my class.
Kai: Thanks, Mr. S.
Now that you've had a chance to reflect, listen to Johanna Staubitz's feedback (time: 1:20).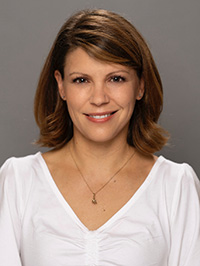 Johanna Staubitz, PhD, BCBA-D
Assistant Professor
Department of Special Education
Vanderbilt University
Transcript: Johanna Staubitz
The debriefing session that Mr. Santini and Kai had was effective. During that time, Kai was able to identify what it was that happened and to communicate that he understood his mistakes, or that his behavior was inappropriate and unsafe. Not only is Mr. Santini, through that conversation, helping Kai develop the skills to detect triggers and also discriminate whether his behavior aligns with the expectations of the classroom, but also, they developed some possible solutions, such as taking a pass or skipping his turn or getting a sneak preview at passages, so he could be prepared to read them. So, they came up with some ways they could collude a little bit to make that type of activity go better in the future.
Now, when debriefing with the class, this would typically happen without Kai present and Mr. Santini should discuss what happened, what Kai did, and allow students to share—but don't press them—but allow them to share their feelings about the situation if they are so inclined and answer questions they have. In addition, Mr. Santini should acknowledge that the situation was scary or confusing, however, really clearly communicate the importance of welcoming Kai back to the classroom after he's calmed down and re-entered and making sure he knows he belongs.